Acne Scars - Know About Disease, Treatments, & Cost in Jaipur at Skinaa Clinic
Skinaa Clinic has some highly advanced acne scar treatment in Jaipur
Know More About Acne Scars
Acne scars are unwanted, unsightly, and sometimes so much frustrating that you begin to feel a little low in a gathering of people. Skinaa Clinic offers PRP with Dermaroller, subcision, & Fractional CO2 Laser for scars.
Why Opt for Skinaa's Advanced Treatments?
In almost all cases, home remedies don't work for acne scars while unauthentic treatments, medicines, or steroid tubes can make the condition worse. Hence, proper procedural treatment is needed to provoke the regrowth of the tissue.
Acne scars are formed when a breakout (acne) penetrates the face skin deeply and damages the skin tissue. And as the damage caused by the acne is very deep, a scar is left after the body's healing process if the scar doesn't get enough collagen to resurface the scar. These scars can be temporary or permanent. Scars formed on the face are usually called Atrophic or depressed scars.
Do Regular Medicines Work in Scars?
Yes, regular medicines might work on the scar if they are mild and not permanent. But if the scar is severe (deep and critical), medical and procedural treatments such as become necessary to boost the production of collagen and rebuild the broken tissues.
The Treatments We Offer for Scar Removal :-
Benefits of Advanced Acne Scar Treatments in Jaipur :-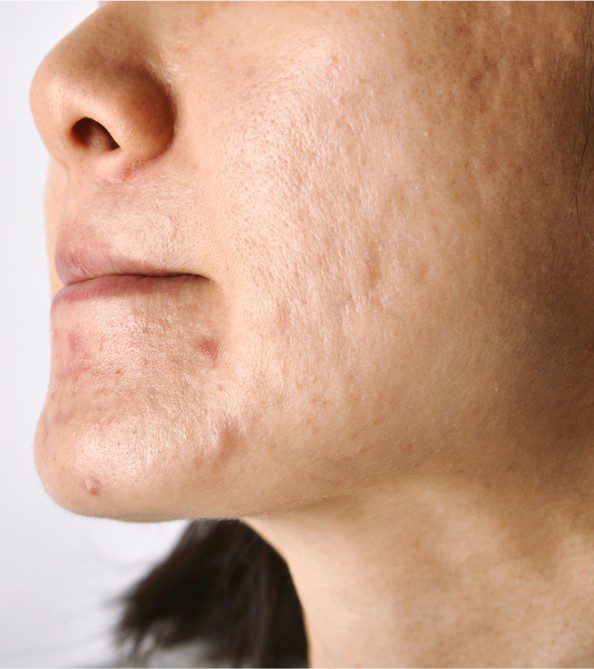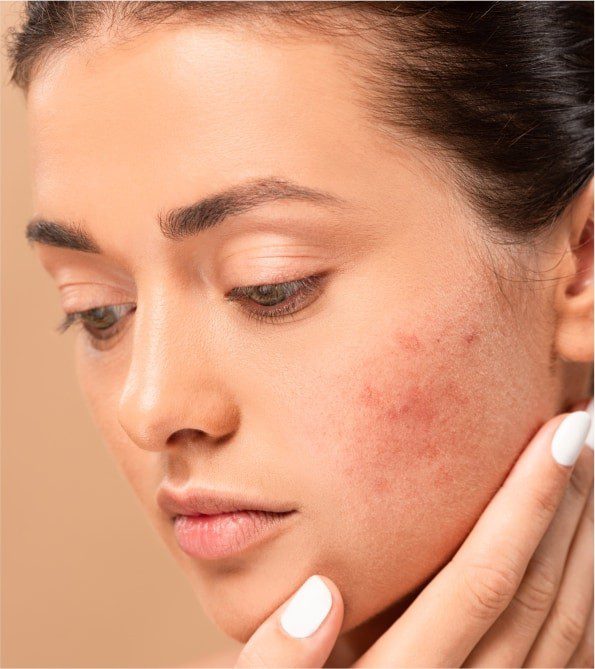 More Info on Acne Scar Solution at Skinaa Clinic
At a point in time when one starts to feel like that he or she can no longer go without a dermatologist's help, they should. A doctor's advice and treatment become necessary because intermediate and critical Acne Scar is very hard to be treated all by itself.
Dermaroller with PRP Treatment for Acne Scars in Jaipur
Microneedling with PRP is a cosmetic treatment that stimulates extra collagen production, by rolling fine needles over the skin and applying PRP (Plasma Rich Platelets), which are one of the components of blood. The liquid in the blood is plasma, while platelets are solid. Platelets help blood clot, so they are vital for healing wounds and injuries.
Fractional CO2 Laser Treatment for Acne Scars in Jaipur
Fractional Co2 Laser is an acne scar procedure. With one of the longest wavelengths of the laser, it is effective for depressed atrophic scars, uneven skin tone, wrinkles, enlarged pores, uneven texture, and sagging skin. Fractional Co2 Laser emits a zone of tiny microthermal beams on the treated areas. Thousands of beams with the diameter of a hair will penetrate deep into the layers of your skin creating numerous microscopic thermal injury zones while sparing the surrounding tissue. Once the microscopic injury irritates the skin, collagen production will begin allowing the process for the skin to start repairing.
Erbium Fiber Laser Treatment for Acne Scars in Jaipur
Erbium Fiber Laser is one of the most stable scar removal techniques which is less painful. It produces new collagen, the skin regains its youthful appearance.